My Plain Jane by Cynthia Hand, Jodi Meadows, Brodi Ashton


'My Plain Jane' is a funny, entertaining parody of norms of 19th century English society and writing, and especially of Jane Eyre. It's full of surprises, quirky comments and intriguing ghosts – I liked it, but it wasn't as good as My Lady Jane.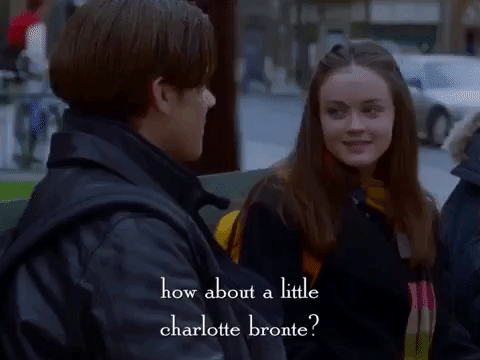 'Love trumped everything in a woman's life. More than ambition. Respectability. Common sense. Love, they'd both been taught, conquers all.'
That pretty much sums up what society expected from women and vice versa at that time (also, now I know that 'to trump' is actually a word. Yikes.). At least, from what I gathered after numerous references to Jane Austen in this novel, this is what it's like in Jane Austen novels which Charlotte Bronte (as a character here) is highly influenced by in her thinking. The authors make fun of this ideal over and over here, and they rip apart the storyline of 'Jane Eyre' just as they did with Jane Grey's short reign as Queen of England. The thing is that I haven't read Jane Eyre yet (don't judge me, I should've by now, but the parcel seems to have disappeared somewhere along the way), so I can't really judge what of this was taken from Jane Eyre and whether it's a good parody of it or not (UPDATE: now that I've read Jane Eyre: it's a good parody of a great book). Anyway, the Tudor setting was more my cup of tea (there's a lot of tea in this novel!) as I've read countless books about that time. I just think it's more interesting, with all the beheaded queens and whatnot.
'He keeps it locked in a room guarded by a three-headed dog, which drops into a pit of strangling vines, followed by a life-or-death life-size game of chess, which opens into a room with a locked door and a hundred keys on wings, and then there's a mirror…'
Branwell gasped. 'That's horrible! That poor three-headed dog!'
Thumbs up and at least one star for that Harry Potter-reference which made me realize that I'd love to read a fanfic by the Lady Janies in which Harry gets sorted into Hufflepuff. Anyway, there's a number of literary and popcultural references in this one which made me smile, including these ones:
'We require that one ring,' Mr. Blackwood said.
'It's my ring,' said the king. 'It's my precious. And I think I know you, sir. You are Mr. Blackwood.'

'My name is Alexander Blackwood. You killed my father. Prepare to-'
Just like the (brilliant!) prequel, 'My Plain Jane' is stuffed with irony, banter, and famous historical figures including the Duke of Wellington and Charlotte Bronte (but not Alexander Graham Bell). The authors once again tear down the House of English History and play cricket with its stones: Wellington becomes the leader of the famous Society for the Relocation of Wayward Spirits which does just what its name suggests. Its members travel through the country and collect ghosts to guide them to the afterlife, though most of them really don't want to go there. Among its members is Alexander Blackwood who meets Charlotte Bronte and Jane Eyre during one of his missions – from that point on all kind of weird stuff happens. Basically this is 'My Lady Jane' transported into the Victorean Era, with Edians replaced by ghosts. It has the same light, funny irony like its predecessor:
'Still, there was beauty inside of them, if anyone cared to look. Charlotte had always known Jane to be a kind, thoughtful sort of person. Even when she was committing murder, she was thinking of others.'
So why do I say that this one isn't as good as 'My Lady Jane'? Maybe it's because I'm used to all of this by now. Or it's the new setting. But most likely it's because I felt that this novel was too long in the final third. There is a major plot twist, the revelation of the 'nefarious villain' which I saw coming miles ahead, and I somehow felt that the book carried on to long afterwards -the final confrontation could've happened sooner. Also, while the irony was still there, especially everytime someone blushed in a pre-Victorean way, I preferred the field of jokes from 'My Lady Jane'. That's quite a shitty explanation, I know, so I'll try to use a quote:
'I'm not a very good actor,' he confessed.
'You're fine,' Charlotte assured him. 'You've handled yourself brilliantly so far.'
'But it's different now.'
'I know. This situation is entirely more important.'
That's just how I feel about all of it. Somehow, 'My Lady Jane' was just bigger. I mean, there was a struggle for the crown in it, plus royalty and stuff. And talking horses (who make a guest appearance here, by the way). The stakes were higher, the plot was more interesting. Here, in comparison, it's all somewhat smaller. The king is still in it, but not as much as he was in the prequel…anyway. This is once again a very good book and a true page-turner. I still liked it which means: three stars.