'There were always excuses for why girls died.'


Leigh Bardugo's first adult novel is a dark, uncomfortable and gripping read. As always, it's hard to get into the story, but once you're in it, it's impossible to put down: blessed with a fascinating protagonist, an intriguing world and a hell of a story.

Ninth House is both just like and unlike Bardugo's previous books: it's like Six of Crows regarding its beautuful storytelling and character-building, and it's unlike in being written for a more adult readership and not playing in the Grishaverse. Galaxy 'Alex' Stern (love that name!) is an antihero par excellence, and her playground isn't Ravka or Ketterdam, but Yale. Amid the university's societies, ghosts and magic are present everywhere – at least to Alex who is one of the very few people who can see ghosts. Which is why she's even there, studying at Yale, because until recently Alex's life was a mixture of disappointment and tragic, of drugs and abusive boyfriends.

'Maybe all rich people asked the wrong questions. For people like Alex, it would never be what do you want. It was always just how much can you get?'


So Alex's life was basically bullshit and almost over before it truly started. But then she gets her second chance, and what a chance it is: a scholarship to study at an Ivy League college. Because she can see ghosts. Sounds good? The problem is that these ghosts can get very physically if you give them too much attention. Like, for real. Alex gets even almost raped by one of them, so if you're sensitive regarding that stuff, maybe you shouldn't read this. As I said, this is a dark book, way darker than Bardugo's previous works. Anyway, most of the time these ghosts (or 'Grays') are pretty harmless because of what Alex and the rest of the House of Lethe (the secret society she joins) do: their job is to supervise the other eight secret societies of Yale, to take care that they don't, you know, destroy the universe by conjuring demons or something. Lethe isn't a particularly big society in terms of manpower: there's Alex, Dawes and Darlington. Dawes is sort of their research genius. Darlington is the guy both Alex and Dawes are in love with.

'If Alex could have told Darlington anything, it would have been, Come back. She would have said it in English and Spanish. She would have used the imperative.'


Why are they in love with him? Because Darlington is just adorable. He is as much the perfect hero as Alex is the perfect antihero. They're basically each other's opposite: while Lethe is a duty for Alex, it's a dream come true and an honor for Darlington. While she has that shitty, so shitty background, Darlington comes from a well-respected family. I mean, his real name is Daniel Arlington III. He's basically a prince. Darlington is everything his name suggests: every inch the idealistic gentleman, groomed to be the perfect servant of Lethe house. Oberserving and following these two while they work alongside each other is incredible, thanks to Bardugo's flawless writing. Me trying to express my adoration of Leigh Bardugo's skills: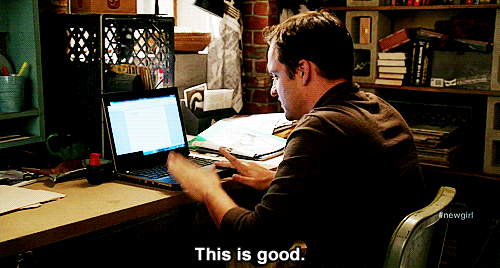 I can't emphasize this enough: I. LOVE. LEIGH. BARDUGO'S. WRITING. There is no author who reaches me like she does. She has an incredible gift for character development and an unparalleled way of making you attached to both her characters and her stories. This was one was, like the last Grishaverse books, another irresistible page-turner. By now I've reached the point where I'll just buy anything with her name on it, even if it's a scientific essay about weather on Neptune.



Alex is a great character to read. It's amazing to see how she develops from that hopeless junkie to a fierce fighter looking for the truth. Ninth House is once again an impressive example of how Leigh Bardugo never ceases to produce unique, relatable, and fascinating characters. Five stars, again.


Andere Meinungen zum Buch:
https://prettytigerbuch.blogspot.com/2020/03/rezension-das-neunte-haus-leigh-bardugo.html