by J.K. Rowling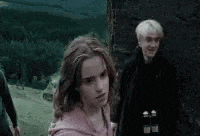 Happiness can be found, even in the darkest of times, if one only remembers to turn on the light.
The first one where Voldy doesn't show up at all. Who cares, because Gryffindor finally win the Quidditch Cup! YEAH! YOU GO, OLIVER WOOD!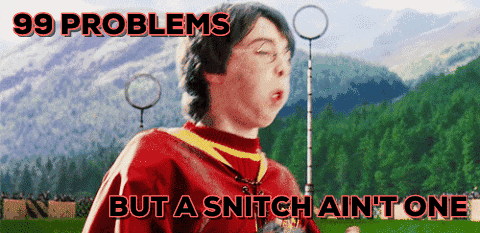 'Bad news, Harry. I've just been to see Professor McGonagall about the Firebolt. She – er, got a bit shirty with me. Told me I'd got my priorities wrong. Seemed to think I cared more about winning the Cup than I do about staying alive. Just because I told her I didn't care if it threw you off, as long as you caught the Snitch first.
Also, we get Sirius Black, that murdering, treacherous bastard who sold out his best friend and said best friend's wife. Plus, he killed poor, innocent Peter Pettigrew and about a dozen muggles. What a truly bad person.
'Nasty temper he's got, that Sirius Black.'
This is the 'James-Potter-book'. There are several references to Lily, but a big part of this is about Harry's father and how very much the two of them are alike. It has James' old friends and enemy in it, after all. The Golden Trio also slowly start growing up here – Ron and Hermione have their first major battle and Harry notices Cho Chang, very much to Oliver Wood's displeasure.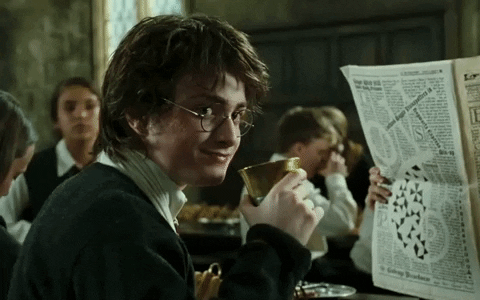 'HARRY, THIS IS NO TIME TO BE A GENTLEMAN!' Wood roared as Harry swerved to avoid collision. 'KNOCK HER OFF HER BROOM IF YOU HAVE TO!'
What else? This book has the first competent Defence teacher which is why Harry is for the first time excelling at some subject. It has new, hilarious characters, most of all Professor Trelawney who never fails to bring out McGonagalls great humour. And it has, of course, the Quidditch Final, Slytherin vs. Gryffindor, the one true Battle of Hogwarts. I know there's people who regard the Quidditch matches as something of a disturbance in these books, but I've always loved them – they're one of the rare instances where Harry can be just like anyone else, only a player among others. A brilliant player, of course.

'Mr. Moony presents his compliments to Professor Snape, and begs him to keep his abnormally large nose out of other people's business.
Mr. Prongs agrees with Mr. Moony, and would like to add that Professor Snape is an ugly git.
Mr. Padfoot would like to register his astonishment that an idiot like that ever became a professor.
Mr. Wormtail bids Professor Snape good day, and advises him to wash his hair, the slimeball.'
Not only because we get the Marauderers introduced, this is the funniest of all seven books. There's so much here that makes me laugh even now after reading these books around twenty times. And though Voldemort's not in it, there's still danger, of course. There's Dementors and vicious Aunt Marge. And Sirius Black, that bad, bad villain. Really hate that traitor.
'Mischief Managed.'